Louis Louise SS16
---
A high degree of creativity is visible in Louis Louise SS16 collection. The French heritage is omni-present alongside a retro-contemporary feel, giving a poetic touch to each of its pieces. Floral prints and delicate colours are favourites this season, as well as comfortable shapes made with soft and flouncy materials.
Louis Louise was created in 2006 by designer Julie Meiler in Paris. The Parisian brand's founder started designing a line of nightwear and soon created a fabulous range of clothes for babies and children. Such was its success that the brand was soon recognised all over the world. Louis Louise opened its first shop in September 2012, followed by a second one in September 2013, both in Paris. At the present time, Carine Enthoven, fashion editor, and Elise Hattab, press officer, have joined Julie to contribute to this success story.
LOUIS LOUISE SS16 GIRLS COLLECTION
|Age: 2 – 12 years|
Louise Louise range of girl's clothes is broad and offers variety at its best; from jackets and coats, to dresses, blouses, skirts, knitwear and overalls, to name a few. Each item has a timeless factor that will allow you to pass them on to the next generation looking fashionable and on trend at all times. Their colour palette is simple; lots of white, baby blue and pale pink. But they also use standout colours like bright yellow which always sends us to "summer mode on". Floral prints are always a must have when it comes to dressing our little girls, and Louis Louise clearly thinks so too.
All these lovely uplifting and coloured print fabrics are made into the most comfortably shaped and cutest pieces of clothing; A-line dresses, floaty skirts, leggings and baggy pants, blouses and overalls with romantic sleeve frills and lovely embroidery.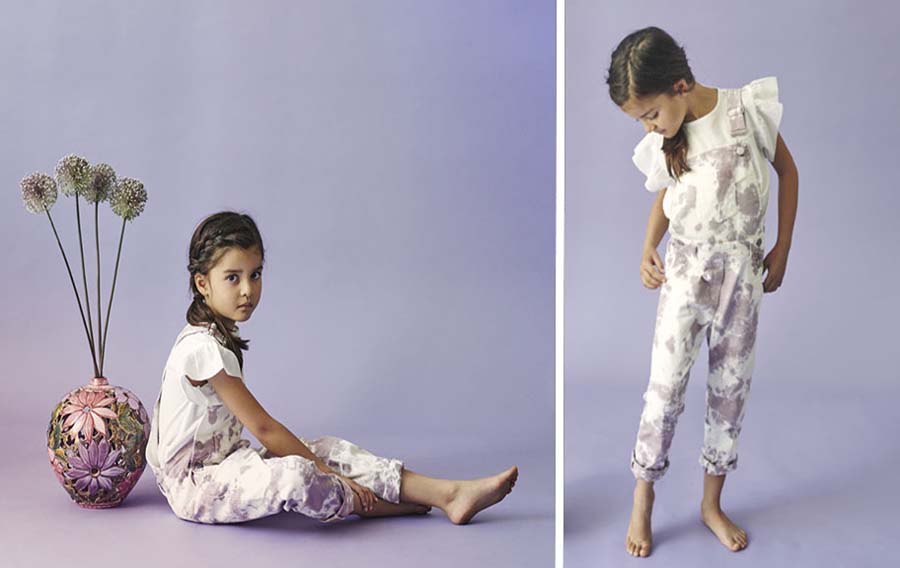 Dungarees are very much in-fashion , so we picked out these little girl's in a pair of dye-effect white and pink models, combined with simple white embroidered tunic with frilled sleeves.
And what about a tulle pink skirt, and sweatshirt with the loveliest print of a little girl with braids? Cute, isn't it? We love them all!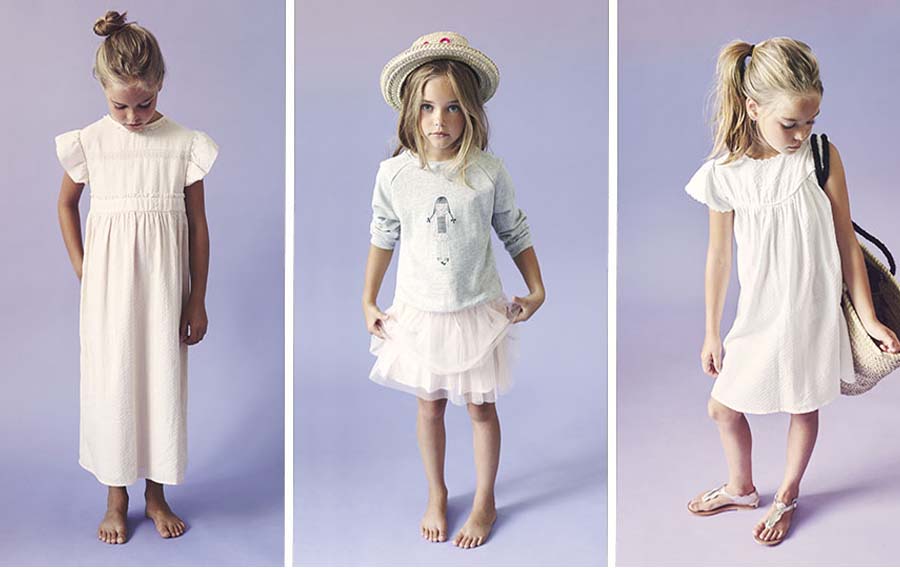 For the older girls and boys Louis Louise offers an array of accessories to complete the overall outfit. Straw hats and baskets, and a range of swimwear are also available to purchase.
LOUIS LOUISE SS16 BOYS COLLECTION 
|Age: 2 – 12 years|
Boys will be Boys! And so they say. And boys are most comfortable wearing t-shirts and sweatshirts. Well, Louis Louise SS16 collection achieves a very masculine yet sweet look when it comes to the boy's range. It uses traditional colours like blue, grey and military green. However, there is always room for contrast, and in this case it's orange!
Stripes, stars and tie-dye effect are used throughout the collection in pants and shorts, as well as shirts and t-shirts. Most shirts are made of cotton crepe which gives a fresh twist to the boys' garments for this season.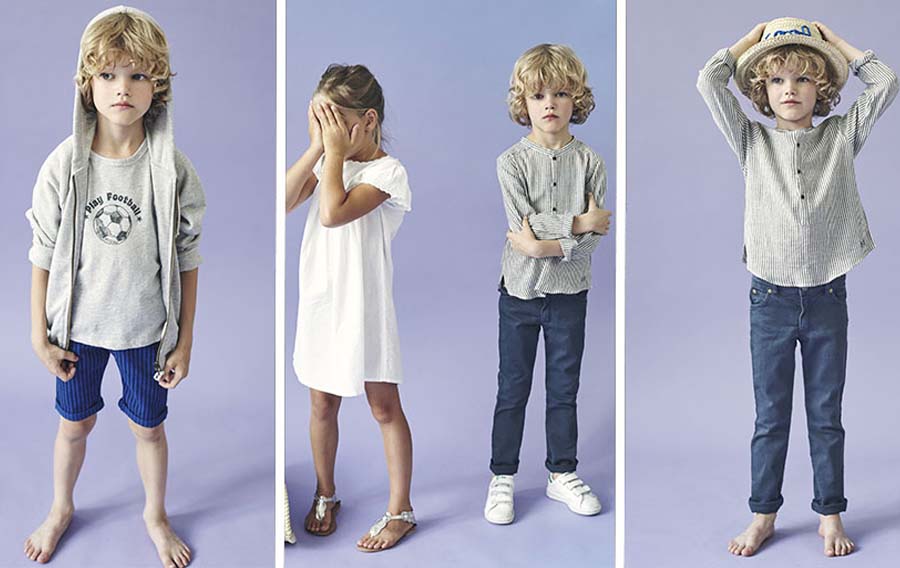 We are in love with this boy wearing denim pants combined with a black and white stripy shirt. Such a Parisian look! Or this other little man with stripy shorts, football t-shirt and a grey sweatshirt overall. So there you go, boys are definitely boys!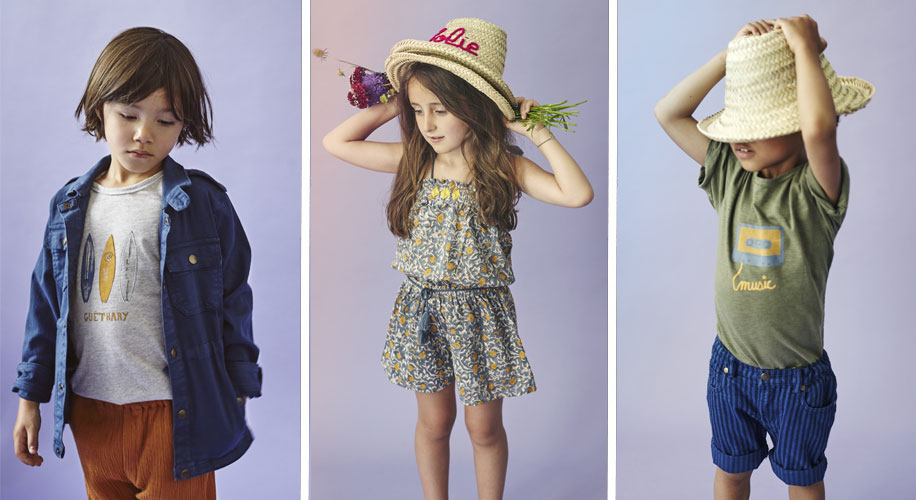 LOUIS LOUISE SS16 BABIES COLLECTION
|Age: 3 – 24 months|
Let's face it! No matter what a baby wears they always look cute, don't they? However, imagine all these little bundles of joy wearing any of Louis Louise's outfits. The baby range follows the not so tiny kid's collections, and there is a difference between boys and girls.The baby girl's colours are soft and delicate: white, pale pink and turquoise,  grey and yellow floral prints. Super sweet blouses with comfy bloomers and a knit jacket complete the look. We love these pink bloomers combined with a cute flowered blouse, a very classic look that will wow friends and family.

The baby boy's range follows the same colour scheme as the older kids: blues, greys, military greens, and to stand out from the crowd, a fun orange. Stripes, stars, and message t-shirts and tank tops are a cool way to dress your baby.This cotton crepe sarouel-style trousers in orange, combined with an orange and blue stripy knit will give your little one a cool and fashionable look. And for those hot summer days these black and white stripy bloomers and a "Batboy" tank top in grey are a must have.

If all of this isn't enough, Louis Louise also makes very nice sets of bedding for children of all ages. You can find sleeping bags, cot bumpers, duvet covers and pillow cases. Old pink knot, grey and golden flowers, and white and pink leopard prints are among the fabrics used to create a statement piece in your children's bedroom.
So, go on! What are you waiting for? If you want your kids to look super smart and feel comfortable with what they're wearing, have a look at Louis Louise SS16. They ship internationally and if you are a soon mum-to-be you can also benefit from a birth gift list service available online.
Click here to find out more www.louislouise.com